Australia is famous for its natural wonders and expansive landscapes. It also has stunning beaches and open deserts.1
Large Australian cities like Sydney, Melbourne, Brisbane, and Perth all have a ton of attractions.
In addition to all the interesting attraction sites in the country, there are also a lot of amazing animals to be seen up close in the zoos there.
Some of the best zoos in Australia are the Adelaide Zoo, known for its enormous koalas; Taronga Zoo, known for its exotic birds; Busselton Jetty, known for its magnificent marine life; Melbourne Zoo, etc.
Here is a round-up of the top 11 best zoo experiences in Australia if you plan a trip to any of the locations and want to see some wildlife wonders.
The Best Zoos in Australia for Amazing Wildlife Experiences
1. Melbourne Zoo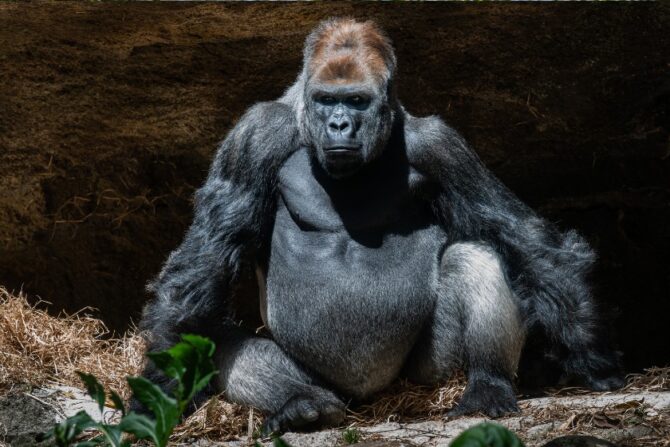 The Royal Melbourne Zoological Gardens, also known as the Melbourne Zoo, is a well-liked tourist attraction in Parkville, Victoria, Australia.
Zoos Victoria, a non-profit organization devoted to preserving endangered species and wildlife conservation, operates the zoo, established in 1862.
Melbourne Zoo was recently named Australia's best zoo in a survey of overseas tourists and is also the country's oldest.
The zoo sits on 22 hectares of grounds and enclosures and is home to more than 5000 animals from more than 300 species.
Elephants, gorillas, and tigers are among the exotic species present, in addition to local Australian creatures like koalas, kangaroos, and wallabies.
In Australia, it is the best zoo to see lions. You can also encounter Philippine crocodiles and African wild dogs here.
This zoo does not only have elephants and large cats, but you can also get to know the Tasmanian Devil and learn a lot about its past.
The Orange Tree Kangaroo, which is incredibly cuddly, is another fascinating species.
Guided tours, animal presentations, and behind-the-scenes encounters are just a few of the interactive displays and educational opportunities available to visitors at the Melbourne Zoo.
Visitors can have a full day of amusement at the zoo thanks to its many food establishments and souvenir stores.
The Melbourne Zoo is home to various lovely gardens and landscapes, including the Australian Rainforest and the African Savannah, in addition to its animal exhibits.
Families, school groups, and visitors of all ages enjoy visiting the zoo, which is a significant component of the city's cultural and recreational landscape.
The variety and history of this zoo will inspire you, making it well worth a stop on your campervan rental Melbourne to Sydney road trip.
Visit the Melbourne Zoo website here.
2. Adelaide Zoo
One of Adelaide's most well-known attractions is the Adelaide Zoo, a well-liked tourist destination in Adelaide, South Australia.
More than 2,500 creatures from over 300 species live in the zoo, including birds, reptiles, fish, and native Australian species like kangaroos, wallabies, and koalas, as well as exotic species like gorillas, tigers, and elephants.
The Adelaide Zoo, Australia's second-largest zoo, was established in 1883 and run on a non-profit basis, much like other notable zoos in the country like Melbourne Zoo, Taronga Zoo, and Perth Zoo.
The zoo is renowned for its conservation endeavors, which include breeding programs for threatened and endangered animals, research projects, and public education campaigns.
The Adelaide Zoo is Australia's top zoo for pandas. Funi and Wang Wang, the zoo's well-known giant pandas and the center of attention at the Adelaide Zoo, are the only two giant pandas in Australia.
Giraffes, gorillas, elephants, flamingos, and different bird, reptile, and mammal species are among the other creatures that can be seen there.
Adelaide Zoo has a variety of gardens, including the Bamboo Forest, the Rainforest Aviary, and the Orangutan Forest, in addition to its animal exhibits.
The zoo also offers a variety of interactive activities that let guests interact with the animals, like the Kangaroo Walk-through and the Lion Encounter.
Visit the Adelaide Zoo website here.
3. Taronga Zoo, Sydney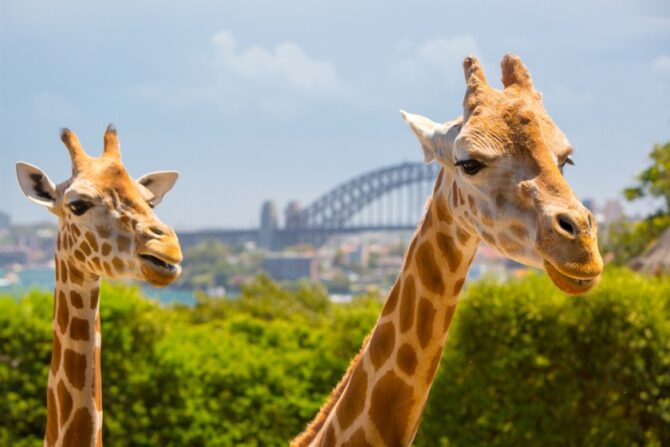 The largest zoo in Australia, Taronga Zoo Sydney, is situated on some of the nicest lands in the city. It is situated in the Mosman neighborhood near Sydney Harbour.
More than 4,000 creatures from more than 350 species, many of which are endangered or vulnerable, can be found at the Taronga Zoo.
This zoo houses exotic birds like the vivid rainbow lorikeet. In addition to its collection of animals, the Taronga Zoo provides breathtaking views of Sydney Harbour and the cityscape.
The zoo is committed to wildlife conservation and aims to advance knowledge of and protection for animals and their natural habitats.
With more than 1.6 million tourists visiting it each year, it is a well-liked tourist spot.
Circular Quay residents can use a ferry to get to the zoo, which provides a variety of activities like animal encounters, behind-the-scenes excursions, and a cable car ride with views of the Sydney cityscape and the zoo's animals.
The greatest zoo in Australia for sleepovers is Taronga Zoo in Sydney. It offers a Roar & Snore experience that lets visitors spend overnight at the zoo and observe nocturnal animals at their busiest.
Taronga Zoo in Sydney has a lot going on all the time. The recent multi-million dollar renovations have transformed this zoo into a stunning holiday site for families.
Visit the Taronga Zoo website here.
4. Perth Zoo
South Perth, Western Australia, is home to the Perth Zoo, a public zoo. More than 1,300 animals from around the world call this 1898-founded facility home, including endangered species like the Sumatran tiger, Western lowland gorilla, and Asian elephant.
In addition, the zoo is home to some native Australian species, such as kangaroos, wallabies, and emus.
The Australian Walk-Through Aviary, which lets visitors get up close and personal with a variety of native birds, is also located at the Perth Zoo.
With a focus on conservation and education, Perth Zoo provides a variety of activities and events for visitors of all ages.
These consist of discussions about conservation, guided excursions, and animal encounters. Additionally, the zoo offers a variety of amenities like cafés, gift shops, and picnic spots.
Visit the Perth Zoo website here.
5. Lone Pine Koala Sanctuary, Brisbane
Brisbane, Queensland, Australia, has a wildlife sanctuary called the Lone Pine Koala Sanctuary. Visitors can observe and engage with the creatures in their natural habitat, making it a well-liked tourist destination.
Koala snuggling, feeding kangaroos and wallabies, and taking in a range of wildlife exhibits and presentations are just a few of the activities offered at the sanctuary.
The sanctuary also features a cafe, a gift store, and educational activities for schools and other organizations.
With more than 130 koalas, this Zoo is recognized by the Guinness Book of World Records as the world's first and largest koala sanctuary. It also actively participates in research to help save these iconic marsupials.
While taking photos, you can hold and pet one of these soft and cuddly wool balls at the Lone Pine Sanctuary.
However, visitors will also find more than 70 native Australian species within the refuge, including platypus and dingos.
Visit the Lone Pine Koala Sanctuary website here.
6. Australia Zoo, Queensland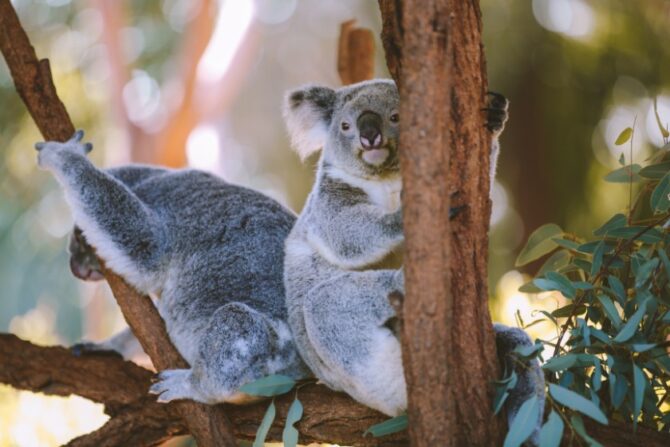 In Beerwah, Queensland, Australia, there is a park dedicated to wildlife conservation called Australia Zoo.
Although it was established in 1970 by Steve Irwin's parents, the "Crocodile Hunter" made it famous and Australia's most well-known zoo.
It is now owned by Steve Irwin's wife, Terri, their daughter Bindi, and their son Robert. Steve Irwin successfully operated it until his death in 2006.
Numerous Australian natural animals, such as kangaroos, koalas, crocodiles, and many others, can be found in the park.
The "Crocoseum," an amphitheater where guests may view crocodile feeding performances and other displays, is also located there.
The park offers a variety of educational activities and programs for visitors in addition to its animal exhibits, such as animal interactions, keeper talks, and conservation presentations.
It is Australia's top zoo for viewing crocodiles. It's not surprising that crocodiles are a part of Steve Irwin's legacy.
Discover why Steve had such a soft spot for them at a wildlife show and see this extinct reptile on the daily show.
Visit the Australia Zoo website here.
7. Dubbo Western Plains Zoo, New South Wales
The Western Plains Zoo, commonly referred to as the Dubbo Zoo or the Taronga Western Plains Zoo is a sizable open-range zoo near Dubbo, New South Wales, Australia.
There are many different species of animals living in the zoo, which has a total area of over 300 hectares (740 acres), including African elephants, giraffes, zebras, antelopes, and many more.
The zoo, renowned for its conservation initiatives and dedication to animal welfare, provides various educational programs and activities for visitors of all ages.
The Taronga Western Plains Zoo offers a number of well-liked attractions, such as behind-the-scenes visits, guided tours, and the chance to feed and interact with some animals.
The zoo is a well-liked tourism destination for locals and visitors and is open every day of the year.
Just a moat separates you from the wild creatures of Africa as you cycle the six-kilometer circuit of Dubbo's Western Plains.
Visit the Dubbo Western Plains Zoo website here.
8. Philip Island Nature Park, Victoria
Roughly 90 minutes from Melbourne, Phillip Island Nature Park is a well-liked tourist destination in Victoria, Australia.
Numerous animals live there, including wallabies, kangaroos, seals, and penguins. Visitors to the park can enjoy the nightly penguin parade, which is a popular attraction.
Although penguins may not be the first animal that comes to mind when thinking of Australia, it is possible to view them throughout the southern shores (and in much of Tasmania).
You may even find a countdown to their arrival on the Phillip Island website. Koala sightings, breathtaking EcoBoat Tours, and more are available.
The Churchill Island Heritage Farm, where guests can interact closely with koalas, is one of the park's additional attractions.
Visitors can enjoy the park's natural splendor and view a variety of native plants and animals on the park's many walking trails.
Phillip Island Nature Park provides various tourist services and activities in addition to its natural charms, such as picnic spaces, gift shops, and cafes.
Visit the Phillip Island Nature Park website here.
9. Hunter Valley Zoo
In one of Australia's most popular wine areas, the Hunter Valley region of New South Wales, Australia, is home to the modest, family-run Hunter Valley Zoo.
The zoo is home to a diverse range of animals, including native Australian species like kangaroos, wallabies, and koalas and exotic species like lions, tigers, monkeys, and meerkats.
Visitors to the Hunter Valley Zoo can engage in various activities in addition to watching the animals, like feeding the animals, holding a snake, and taking pictures with koalas.
Families and tourists enjoy visiting the zoo because it provides a special opportunity to get up close and personal with some of the most intriguing creatures in the world.
Though smaller than others on the list, it nonetheless has a lot of charm. Explore the walkways and take in the display of exotic birds, mammals, primates, and reptiles.
The greatest zoo to view Meerkats is here. They enjoy climbing on caps in particular. You can upgrade your visit to the Hunter Valley Zoo so that you can go inside the meerkat cage.
Visit the Hunter Valley Zoo website here.
10. Werribee Open Range Zoo, Victoria
A wildlife park called Werribee Open Range Zoo is situated in Werribee, Victoria, Australia, 35 kilometers southwest of Melbourne's central business district and nearly halfway to Avalon Airport.
The 250-hectare zoo is home to many African and Australian creatures, including kangaroos, emus, giraffes, zebras, rhinoceroses, and kangaroos.
The best zoo in Australia to visit if you want to see gorillas is Werribee; it has one of the largest gorilla enclosures in the world, giving the beautiful primates more than 6000 square meters of space.
Visitors to Werribee Open Range Zoo can observe animals in their natural habitats and learn about their habits.
The zoo provides a variety of interactive activities, including family-friendly educational programs and safari trips with knowledgeable guides.
Werribee Zoo, like Dubbo Zoo, gives its animals a bigger room than the typical zoo. For those who prefer to get up close and personal with the wildlife, safaris are an option.
The Werribee Open Range Zoo's off-road safari offers a wonderful opportunity to observe the majestic animals of the African savannah and get to know them better.
Visit the Werribee Open Range Zoo website here.
Also See: 30 African Safari Animals You Need To See (With Pictures)
11. Busselton Jetty, Western Australia
In the town of Busselton, Western Australia, a wooden jetty is 1.8 kilometers (1.1 miles) long. It is a well-liked tourist destination and the longest wooden jetty in the southern hemisphere.
It is one of the more distinctive "marine zoos" in Australia. The Busselton Jetty, Australia's largest artificial reef, is home to more than 300 marine species and a wide variety of vibrant sponges, corals, and fish.
The institution, one of only six underwater observatories in the world, is not strictly a zoo but is so spectacular that it deserves to be on the list.
The jetty was initially constructed in 1865 as a loading area for timber and other items.
Still, it has since been converted into a tourist attraction with a variety of attractions, such as a visitor center, a train ride down the jetty, an underwater observatory, and several restaurants and cafes.
There are many varieties of fish in the waters along the jetty, making it a well-liked location for fishing.
The jetty is a significant component of the neighborhood environment, providing a habitat for various plants and animals in addition to its cultural and recreational value.
Visit the Busselton Jetty website here.
Conclusion
In conclusion, Australia has some of the top zoos in the world and is home to a variety of unusual and rare animals.
Top destinations for animal lovers include the Adelaide Zoo, Taronga Zoo, Perth Zoo, Melbourne Zoo, and others.
These zoos allow visitors to see exotic animals from around the world and native Australian species like koalas and kangaroos.
For anyone traveling to the continent, these best zoos in Australia are must-see attractions.
Next up…
References & Notes
Facts Sources: