The blue whale vs megalodon is the battle of underwater giants—who would win? To determine this, we need to compare the physical and mental capacities of both animals and draw a verdict.
On one hand, we have the intimidating and ferocious blue whale! Its opponent is the scariest shark species you'll ever come across. Its name is…the megalodon!
Of course, this is a battle that would never happen.
The megalodon existed some millions of years before the blue whale became well known, and the former is now considered extinct. No one is quite sure why, but it is the sad reality.
What we do know from research is that the megalodon was as ferocious as its name, and it was an apex predator (top of the food chain).
The blue whale is currently the largest animal on earth, and its weight equals 33 elephants.
It is also considered the loudest animal in existence, and though it is endangered, it is still a titan of the sea.
Perhaps we should be grateful both animals don't exist side by side today. A fight between them would have spelled disaster for any living being nearby, including humans on the ship.
However, we can still imagine who would win between the blue whale and Megalodon.
Blue Whale vs Megalodon Side by Side – Facts
| | Megalodon | Blue Whale |
| --- | --- | --- |
| Speed | 11 mph | 5 to 20 mph |
| Teeth and bite power | 41,000 ibf bite power 250 teeth, 5 rows, 7 inches | No bite power Has no teeth, uses baleens |
| Senses | Strong sense of smell, great vision, strong hearing | Little or no sense of smell, can see up to 35 feet, hearing is acute |
| Defenses | Massive size, speed | Vast body size, swim speed, a thick layer of blubber |
| Offensive capabilities | Its jaws measure more than 6.5 feet in diameter. 250 teeth, 7 inches each High swim speed | Tail thrashing |
| Predatory behavior | Uses stealth and ambush | Skim feeding, lunge feeding |
| Length | 67 feet | 100 feet |
| Weight | 60 tons | 100 to 110 tons |
Blue Whale vs Megalodon – Who Would Win?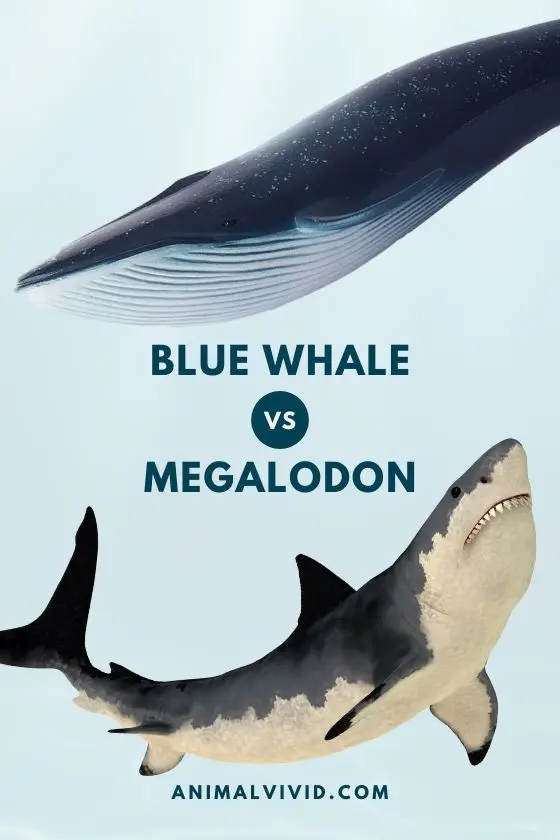 To figure out who will possibly win in a battle, let's compare both animals using 7 key factors.
Whichever one has more potential will be determined as the winner.
Size
This part is easy. Being the largest animal in existence and possibly the biggest to have existed, there's no way the blue whale will be smaller than the Megalodon.
The blue whale weighs between 100 and 110 tons while the Megalodon falls at 50 tons.
The blue whale also measures up to 100 feet, trumping the megalodon's 67 feet.
Verdict: Because size is a definite advantage in any fight, the blue whale has a clear upper hand. However, this doesn't mean a megalodon can't use its small size as an asset. Water is hard to navigate, and smaller sizes might prove useful.
Bite Force, Teeth, and Jaw Size
The bite force of a blue whale is non-existent. Blue whales are skim feeders, and as such, they don't have teeth.
They instead have baleens, which can't be used to bite or inflict any damage.
On the other hand, the megalodon is a mighty shark, and it has the bite force to prove it.
Its bite force goes up to 41,000 ibf, and it has up to 250 teeth! Sharks tend to be aggressive, and one can only imagine the damage a megalodon can inflict.
The blue whale does have a bigger jaw, big enough to carry 100 tons of water. But as a weapon, the megalodon's jaws are to the feared.
Verdict: The megalodon gets a clear advantage here, regardless of the blue whale's bigger jaws.
Movement and Speed
The megalodon is no longer in existence so we can't study its exact movement and speed. However, we can get an estimate from the surviving ones.
With this, the megalodon's speed seems to be 11 mph with a side-to-side movement that's typical of sharks.
The typical speed of a blue whale is 5 mph. However, it can go up to 20 mph when lunging after a meal or avoiding a threat. That's more than the megalodon can go.
Verdict: The megalodon moves fast, but the blue shark can outpace it. The blue shark gets the advantage.
Senses
The megalodon is often compared to the great white shark in terms of senses.
This means all their senses are heightened, more than a human could ever dream to have.
Megalodons see over a short distance and under dim light. Their scent is strong enough to pick up prey with ease, and they hear far too.
The blue whale doesn't have too many strong senses. Its hearing is good, but even that isn't considered too special. It can see to an extent and has a poor sense of smell.
Verdict: The megalodon has a clear advantage of senses over the blue whale.
Predatory Behavior
Both animals are predators, but their methods differ. The megalodon is believed to have hunted similar to how a great white shark will.
It sneaks up on its prey and strikes or lays an ambush. Because of its strength, it feared no one. It probably wasn't afraid of humans too.
The blue whale is more of a pacifist and it doesn't hunt. It gets its meal by swallowing water with fish. Then, the blue whale filters out the water, leaving the meal.
Verdict: The megalodon is a better predator than the blue whale.
Offensive and Defensive Strength
The blue whale uses no offensive tactics to get prey but employs a few when threatened.
It thrashes its tail, which can be deadly if it lands a hit. For defense, the blue whale's size is an advantage. It has few predators.
The megalodon was a fierce hunter that was always on the offensive when hunting prey. The combination of its jaws, teeth, and bite force was powerful. Its defense was poor, however, mainly because it was at the top of the food chain.
Verdict: The megalodon has better offenses, but the blue whale has better defenses.
Blue Whale vs Megalodon – Final Verdict
The blue whale's biggest asset is its size. Being the biggest animal in the world, it has few enemies.
We can't even be sure if the megalodon would have tried taking down a blue whale.
That said, the megalodon has better offensive tactics and senses. It also has teeth and a strong bite force.
Overall, the odds are in the megalodon's favor.
References