The blue jay is a medium-sized bird with a long tail and a short neck.
It is native to eastern North America and lives in most of the eastern and central United States.
Blue jays are predominantly blue with white chests and underparts and a black ring around their necks.
They are also intelligent birds that are known for their ability to mimic human speech.
Interestingly, there are many birds that look like blue jays, some in color and others in shape and body structure. These include the steller's jay, Mexican jay, and Canada jay, among several others.
But before we dive into these birds, let's first have a look at the blue jay's general characteristics.
What Are Blue Jays?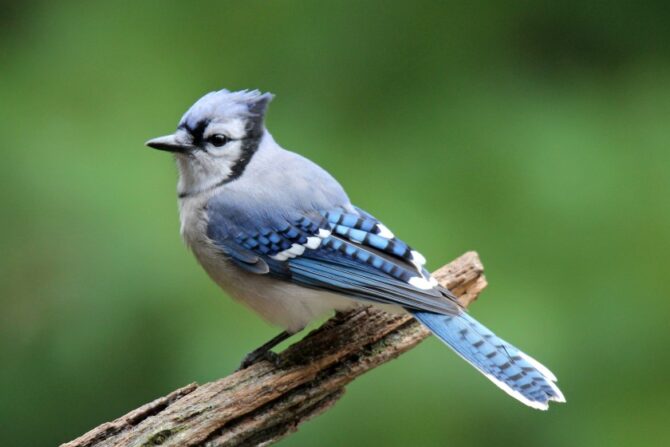 The blue jay (Cyanocitta cristata) is a bird that belongs to the family Corvidae and is native to North America.
Blue jays are predominantly blue, characterized by a blue crest and a black U shape around their necks that looks like a black necklace.
This black ring serves as a black border in its neck region.
Their chest and underparts are white in contrast.
Blue jays are not sexually dimorphic, so both males and females have the same plumage.
They breed in coniferous and deciduous forests and are often seen in residential areas.
While blue jays mainly eat seeds and nuts, they also feed on fruits, insects, and small vertebrates.
Despite their beautiful appearance, blue jays are known to be aggressive, as they often raid other birds' nests and can decapitate other birds.
Interestingly, the name blue derives from the bird's color, while the name jay derives from its babbling, garrulous nature.
15 Birds That Look Like Blue Jays
1. Mountain Bluebird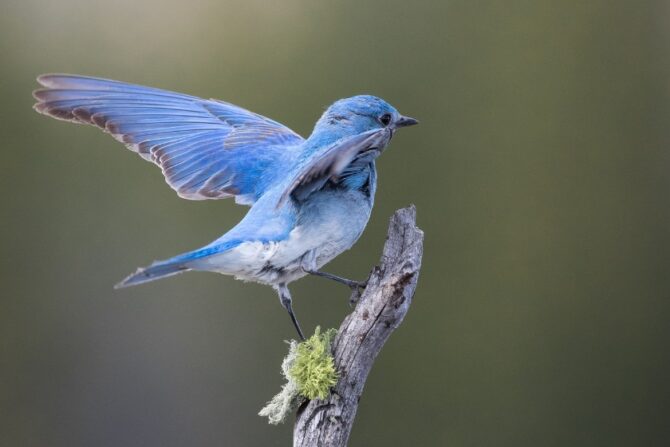 As the name implies, mountain bluebirds live in mountainous regions across Western North America.
In winter, they migrate to Mexico and western Canada.
As for their similarity to blue jays, mountain bluebirds are predominantly blue.
They also have blue heads with specks of white and light blue underparts.
However, compared to blue jays, mountain bluebirds are more vibrantly blue and smaller in size.
They are also sexually dimorphic, as the females and juveniles are gray-brown.
Mountain bluebirds do not have a crest or a bold black U shape on their neck region like blue jays.
They are generally blue overall, with a rounded head, thin bills, and shorter tails.
Despite their staggering differences with blue jays, these birds look so much like blue jays.
2. Steller's Jay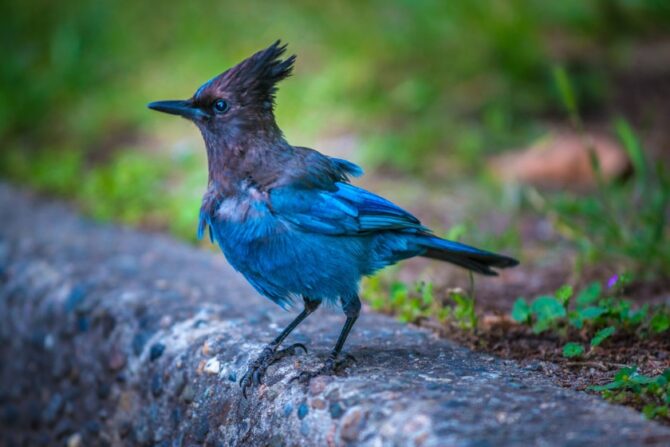 Also known as the mountain jay, pine jay, and long-crested jay, the steller's jay is closely related to the blue jay, which explains why people often call it a blue jay.
The steller's jay is similar in shape to the blue jay and features an identical crest upon its head.
Its upper body is black, fading into a deep, almost navy blue body and underside.
It bears no white markings as the blue jay does but has some black markings on its round wings.
It is similar in size and shares the same round-shaped tails as blue jays.
Aside from looking so much like the blue jay, steller's jays often inhabit the same areas as blue jays.
As a result, the two species often interbreed, leading to hybridization.1  
Just like the blue jay, the steller's jay prefers living in large forested areas and is usually found in Western North America and the mountains of Central America.
3. Florida Scrub Jay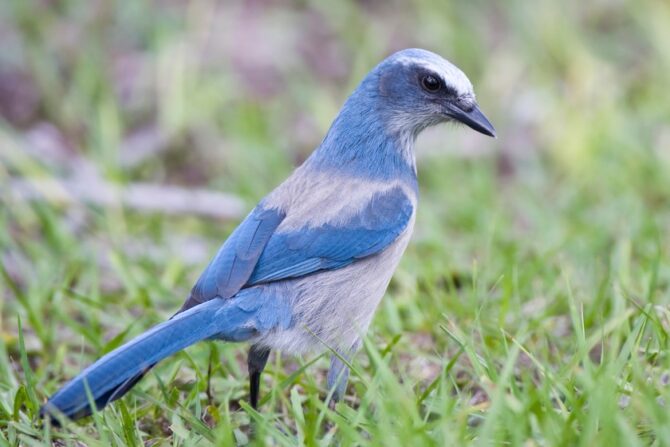 As its name implies, the Florida scrub jay is endemic to the state of Florida in the United States.
This species looks very much like the blue jay, and one may confuse it for one if not for its most noticeable distinguishing difference: the absence of a crest.
Regardless, it is similar to the blue jay in size and color, averaging 9 to 11 inches long and featuring an affluent blue head, upperparts, and equally long tails.
Large and sturdy in shape, the bird's underside is gray, unlike the white underparts of the blue jay, and its feathers are pale blue.
It also does not have the black necklace coloring in the neck region that blue jays have.
4. California Scrub Jay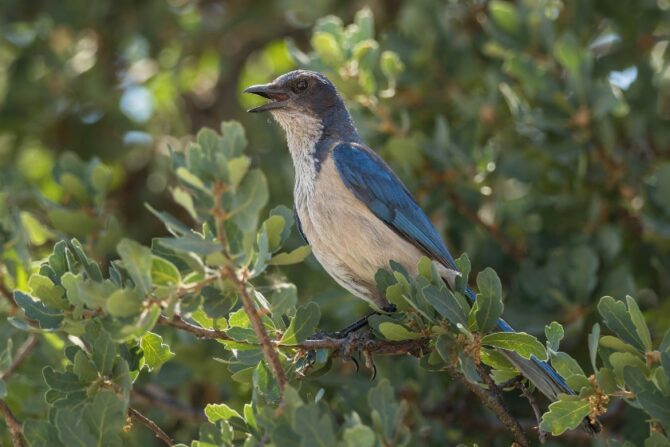 These non-migratory birds are often seen in urban areas on the western coast of the United States.
They look like blue jays in their color, size, and other features.
Both birds have blue upper body parts, white undersides, and blue heads, and they are the same size.
However, the California scrub jay has no crest on its head, and the ring around its neck is blue.
While its underside is white like the blue jay's, it is adorned with little specks of gray.
The California scrub jay is known to inhabit oak woods, edges of mixed forests, low scrubs, and suburban gardens.
5. Woodhouse's Scrub Jay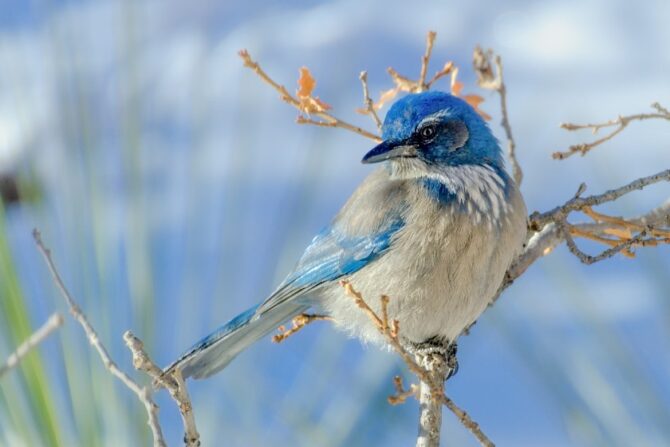 Woodhouse's scrub jays are sometimes seen among blue jays and thus easily mistaken for one.
They are similarly blue in color, especially the upper part of their bodies, and have a lighter underside, although their underside is gray compared to the blue jay's white underside.
They also have a similar breast brand, white throat, and equal tail length.
However, they do not have the noticeable crest and lack the black facial markings of the blue jays.
Once considered the California scrub Jay, the woodhouse's scrub jay likes to live in low scrub areas, oak woods, edges of mixed forests, and boreal and temperate forests.
They are commonly seen west of the southern rocky mountains.
6. Mexican Jay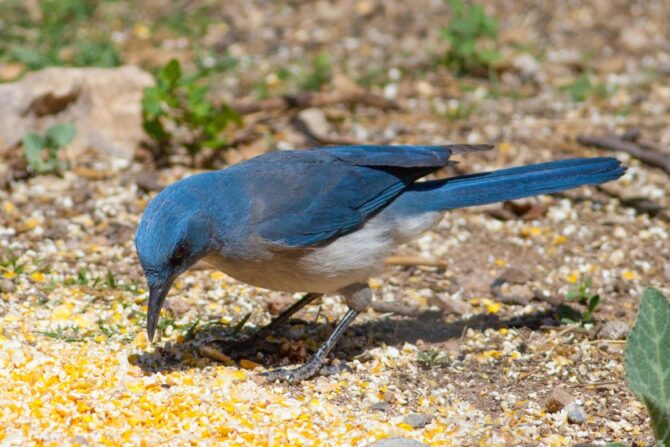 The Mexican jay's first noticeable feature and similarity to the blue jay is its rich blue upper body and back.
Next are its white underpart and throat and its thick, black bills.
Differentiating between the Mexican jay and the blue jay can be hard; nevertheless, the former has its distinct features.
For instance, the Mexican jay doesn't have the blue jay's beautiful crest, black necklace, or facial markings.
Formerly known as the gray-breasted jay, the Mexican jay is a native bird to the southwestern United States, Sierra Madre Occidental, and Central plateau of Mexico and is commonly found in cool pine-oak juniper woodlands and high mountains ridges.
7. Pinyon Jay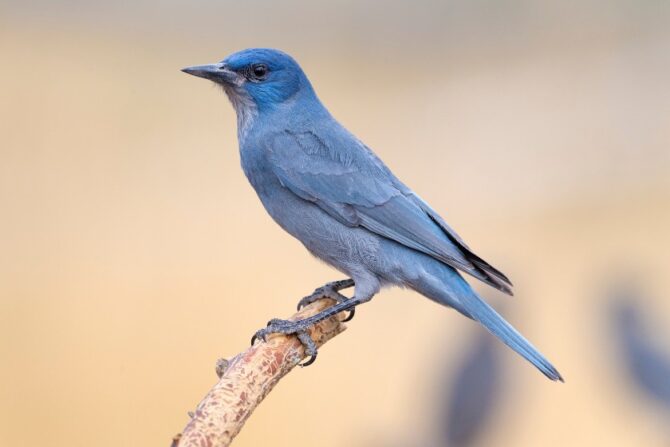 While the pinyon jay shares some features with the blue jay, it might be the only bird on this list that can be easily differentiated from the latter.
The pinyon jay is a medium-sized, crestless bird with almost the same shape and shade of blue as blue jays.
Its blue color is more pronounced, covering its head, upper body, wings, and downward to the stomach.
The pinyon jay has longer, dagger-like bills compared to other jays, which can make people easily mistake it for a little crow.
It is worth mentioning these birds occasionally share the same range as bluejays but are primarily seen in low-elevation ponderosa pine forests in the southwestern United States.
8. Canada Jay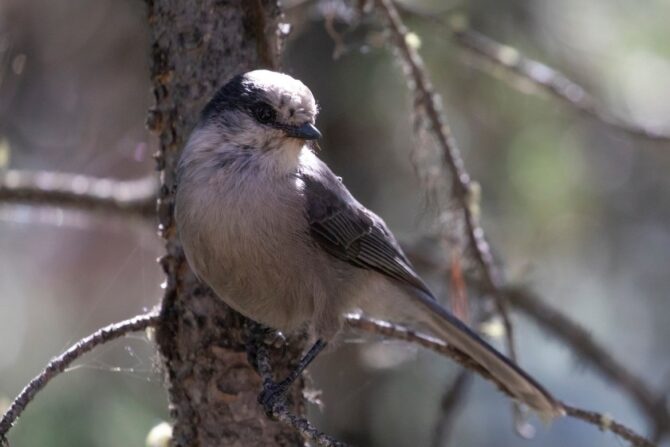 The blue jay and Canada jay are almost mirror reflections of each other, but their similarities go beyond their color.
Their head crests, black markings, shape, and size are so alike.
However, the Canada jay has a shorter beak than that of the blue jay.
As its name implies, the Canada jay is mainly located in Canada.
However, they are also seen in Colorado, northern California, northern New Mexico, and other parts of Northern America.
They like to nest in areas filled with black or white spruce trees within mixed or coniferous forests.
9. Green Jay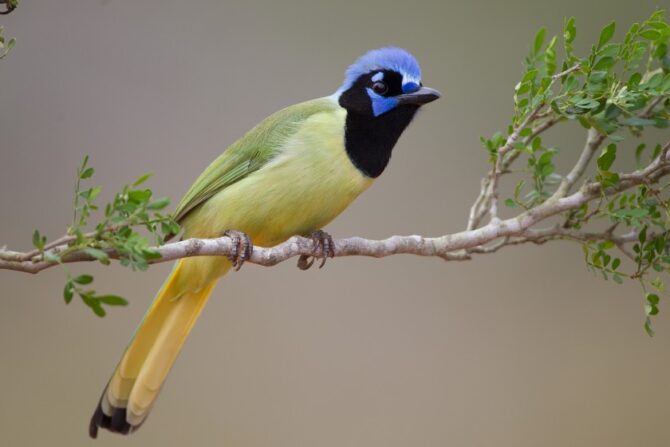 Belonging to the same family Corvidae as the blue jay, the green jay shares some physical traits with the blue jay.
It boasts a bold blue color on its head, features a similar shape and size as the blue jay, and has specks of black markings on its face.
However, its body is green in color, as the name suggests.
With its longer legs, broader wings, a more slender body that is light green, and no crest on its head, it is easy to distinguish the green jay from a blue jay.
However, if you look past their color, the similarities in their appearance become obvious.
The green jay is endemic to Central America and prefers to inhabit woodland areas, thickets, and parks.
10. Indigo Bunting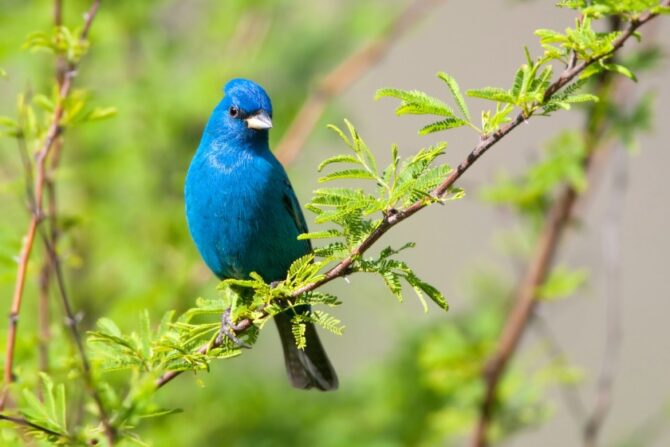 Indigo buntings are small, blue seed-eating birds that can be found throughout the Caribbean, Central America, and northern South America in winter.
In spring, however, they migrate to the north, traveling across the Gulf of Mexico to the Eastern and Midwestern United States and southeastern Canada.2 
One may frequently find them in the territory of the blue jays, and if one isn't an avid bird watcher, there may be no telling them apart due to their similarities, especially in summer.
Indigo buntings are blue with black markings, but that's the only physical trait they share with blue jays.
Indigo buntings are smaller than blue jays and lack a distinctive black neck ring.
They also feature little gray tints in their underparts and, most noticeably, don't have a crest.
Indigo buntings are sexually dimorphic—the males are blue in summer but turn brown in winter months, while the females are brown all year round.
One interesting fact about the indigo bunting is that it migrates only at night, using the stars to aid its navigation.
11. Lazuli Bunting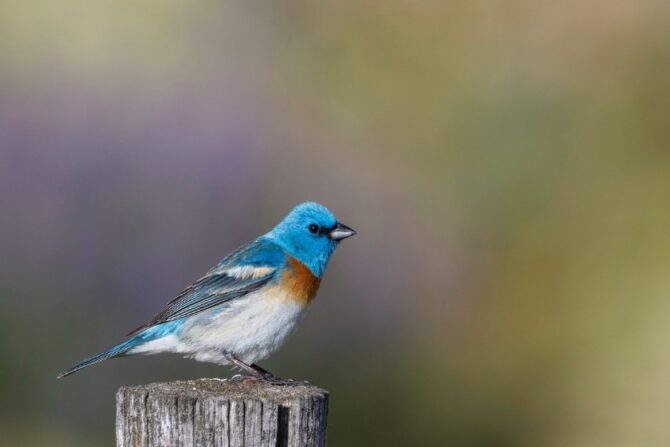 The lazuli bunting is a brilliant-colored North American songbird often seen in Western parts of the United States in summer and south during winter.
Its name derives from the metamorphic gemstone lapis lazuli,3 and its plumage is a mix of four colors, with blue being its dominant color. 
They are also smaller than the blue jays, with a blue upper body, a bright blue head and back, black wings with white wings bars, and an orange and white underside.
Adult females are brown and thus share no physical similarities with the blue jay.
The males, however, can easily be mistaken for blue jays on a bright afternoon.
Lazuli buntings usually inhabit well-watered bushy areas or weedy pastures, even within towns.
12. Black-Throated Blue Warbler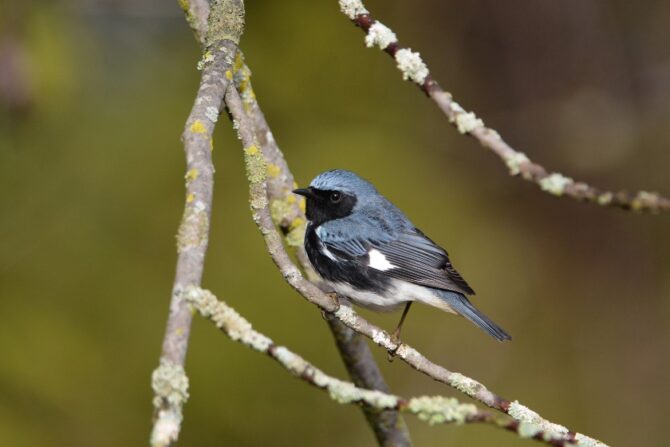 The black-throated blue warbler shares similar coloration to the blue jay, as it features a black face, a deep blue upper part, and white underparts.
The physical resemblance between both birds doesn't go beyond coloration.
The black-throated blue warbler doesn't have the beautiful crest of the blue jay or the black necklace in the neck region.
Additionally, it has a black throat and flanks and a thin pointed bill.
The black-throated blue warbler thrives in temperate mature deciduous forests or mixed coniferous-deciduous forests across mountainous regions in the northeastern United States and southeastern Canada.
13. Island Scrub Jay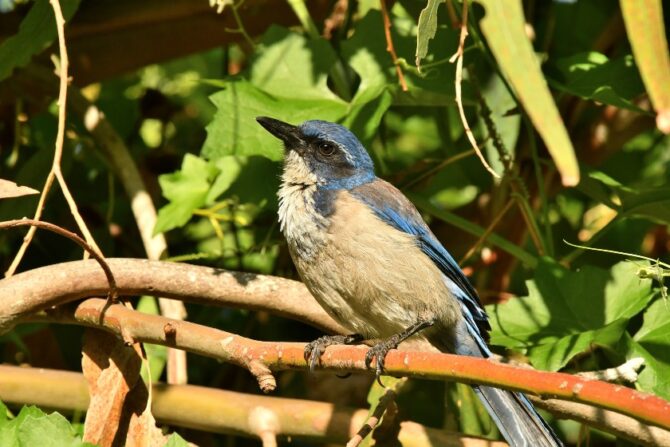 The blue jay and island scrub jay are similar in color and size.
They both have upper blue bodies and white underparts and are almost the same size.
Both birds have specks of black markings on their face, although the island scrub jay has no crest upon its head.
Island scrub jays also have black markings on their wings and shorter bills and tails than blue jays.
Regarding their habitat, the island scrub jay is endemic to Santa Cruz Island within Southern California and occurs in mostly oak chaparral woodland.
14. Blue-Gray Tanager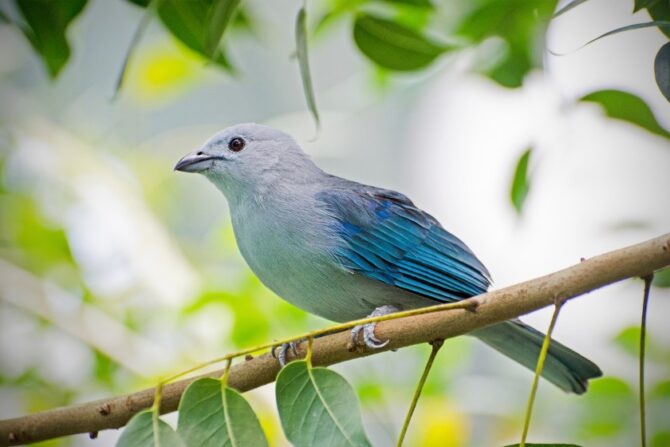 The blue-gray tanager, also known as the blue jean, is a blue bird whose shade of blue is similar to the blue jay.
This medium-sized South American songbird is almost bluish overall, featuring light bluish heads and underparts and a deep blue upper part.
Its shoulder, however, is a different hue of blue, and its bill is short and thick.
Compared to the blue jay, the blue-gray tanager is smaller and has a different shade of blue.
This bird thrives in cultivated gardens and open woodlands.
Blue-gray tanagers are often found in pairs or small groups and sometimes around human settlements.
15. Blue Grosbeak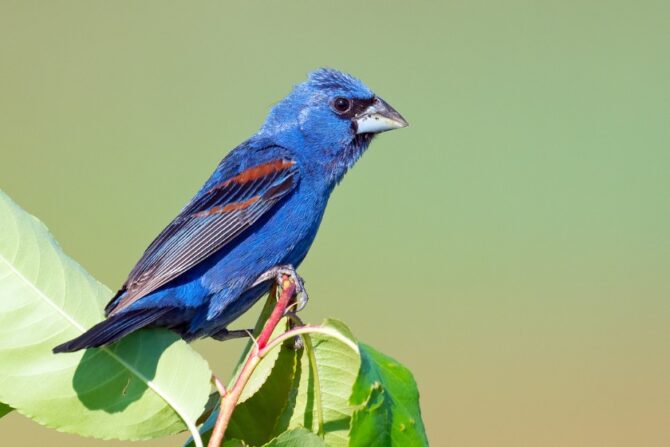 The blue grosbeak is like the blue jay in shape, size, and color, although its color is an overall blue.
Unlike the blue jay, which has a white underside, the blue grosbeak's underside is blue.
This bird has a stocky build, a large, conical silver bill, and large chestnut brown wing bars.
Male blue grosbeaks are mostly blue, while females are usually brown.4
Blue grosbeaks are a migratory species.
During their breeding season, they are commonly seen in northern Mexico and the southern United States.
Later in winter, they usually migrate to Central America.
Blue grosbeaks thrive most in overgrown fields, hedgerows, thickets, scrubs, and cultivated lands.
Frequently Asked Questions
Do Rainbow Jaybirds Exist?
The only place rainbow jays exist is in photo-edited pictures. 
Unfortunately, there aren't any jays with the colors of rainbows.
Do Blue Jays Have Any Unique Traits?
Blue jays are intelligent birds that share a complex social system and tight family bonds.
Can Blue Jays Recognize Humans?
Generally, jays, magpies, and crows can remember individual human faces and navigate human environments, even going as far as identifying garbage cans. 
Another interesting fact about these birds is that they often hold funerals for their dead.
Wrapping Up
Blue jays are an attractive species of blue birds, but they aren't alone in that. 
Interestingly, there are several other birds that look like blue jays and are often mistaken for them.
However, despite their similarities, certain features distinguish them from the blue jays.
Hopefully, this article has equipped you with the necessary knowledge to spot these lookalikes and the distinctive features that set them apart from blue jays.
References & Notes
Facts Sources: